<!- box:2015box1 -->
Faculty & Staff
Ms. Carey Home
COVID-19 Resources
Real Help for Families
Resurrection Rolls
Gospel Easter Eggs Lesson!
Pre-K version of Gospel Easter Eggs!
Eighth Grade
Brick STEM Academy Information & Application Packet
Second Step
Parent Resources
Military Family Resources
Marriage Encounter and Retrouvaille
Children and Grief
Ms. Carey's Credentials
Ms. Carey - Guidance
bcarey@stdomschool.org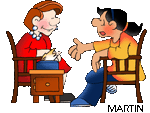 Welcome to the Guidance/Second Step site. Since the fall of 2000, I have been blessed to be the Guidance Counselor at St. Dominic School. I am humbled by and grateful for the Lord leading me here to SDS to serve you and your children.
Feel free to use me as a resource in helping you and your family through whatever transition you may be facing: whether it be an eighth grader needing to make decisions about high school, a social/academic situation, a move, a change in status of someone's health, a death of a family member (or even a pet). Our emotional lives affect our ability to focus and be productive. Someone once said, "We are either just coming out of a trial or just going into one."
During this temporary school closure due to the coronavirus, please email your concerns at: bcarey@stdomschool.org, instead of calling my office.